Comments and reviews
If you already met one or some of our models, you can easily leave your comments or reviews on them. This page is made just for this purpose - our clients should exchange opinions on girls, and maybe you will make someone's choice way easier with your review. If you liked girl and service provided by ESCORT.VC agency, you should leave a positive review with what especially you liked about us. Either way, if you didn't like the service we provided and think that we have something to better - you should either leave a comment and tell us what went wrong when you ordered a girl from us.
Our site administration checks all the reviews, so don't hesitate to wait for some time for your comment to appear on this page. It is performed for the safety of our girls and to avoid spam and reviews that are not true and provided by the men who didn't use our escort services at all. The waiting won't take too long - our site administration is always there to check the wishes and comments of our guests.
Feel free to write down about your emotions and how do you feel about that lady you have met. We are eagerly waiting for reviews and all the girls from Ukraine escort agency are truthfully thankful for the kind words and advices the men give to them.
Dan
21.03.2016
ATTENTION: Hi, I am Dan from London. As already written here the site Moldescorts.com is a scam Sent 300 downpayment and never got any feedback. If you wann be sure go in Kiev and have much more fun for less!!! Best. Dan.
---
Simon
01.03.2016
Hi, Ilona previous photos were classy but these are great, red especially. I don't recall her being a D cup before is that new ? Certainly the previous photos never caught how fine her waist is and what dynamite legs she has. I hope you get a lot of good customers for these girls some of the comments I read makes me think they have to suffer some very unsexy men 1 ;-) Not sure when I'll be in Kiev next but gia always has me wanting it to be tomorrow.
Regards
Answer: Ilona has a D cup now, because she had a breast-enlarging surgery. She also works out a lot to have those dynamite legs and waist :) She is one of our most classy escorts and she really improves herself a lot, in each possible sense. That's why she looks bomb. But she also offers bomb services :) So don't hesitate to come to Kiev as soon as you want to lay hands on this beauty!
---
Mike
11.02.2016
I just read blog in USA about guys complaining about GIA's "high prices". In my opinion GIA prices are TOO LOW. Especially for USA clients! Escorts at GIA are top quality. It is almost impossible to find quality like this model in the USA anymore! Most escorts in USA are complete trash. 90% are covered in tattoos. Tattoos all over her body. It look so disgusting! Now compare to GIA girls. Look at all the beautiful white European GIA women with NO TATTOOS. Just soft, beautiful, feminine skin! No Graffiti on body! I challenge you to find this in USA today. Almost impossible. You have to search through THOUSANDS of escort profiles just to find ONE girl who look like GIA model, then hope she is not police or scam. USA escorts always lie their ages and use fake photos. The will say they are 18,19 years old. And in reality they are 35 years old and delusional. Because USA media culture brainwashes these women into thinking they look 18 years old at age 35! Yes it's true! They say things like "40 is the new 20!". Ha. Ha. Ha. This is the only website/agency where I see honesty. If you want exact same quality as GIA models in USA - it will cost you $500-$1000.00+/hr. minimum today. Especially in New York, Los Angeles, Las Vegas, Miami etc. You will have to search very long and hard. USA is so "politically correct" the escort websites refuse to use detailed search functions with age/tattoos/race/services etc. like GIA does - because they do not want to "discriminate". So you do not even know the services before girl shows up at you're door! Then she shows up and is old looking, has tattoos, fake photos, or standing at door with black pimp both demanding that you pay even if they lie in advertisement. Boycott USA. There is NO QUALITY in USA anymore. By quality I mean young, white, thin, curves, bare skin - no tattoos, no black pimps, real photos, honest and direct about services, articulate, etc. You will have to search through hundreds or even thousands of escorts online in USA and it will cost you minimum of $500-$10000+ hr. Or you have to fly to Las Vegas and still - you run risk of pimp, fake photo, old women, tattoos, police, etc. And - if you're arrested in USA - it will cost $10,000 for attorney - loss of job and reputation. So I think $200 per hour is huge bargain! especially for these beautiful perfect ladies! You would have to be millionaire in USA for girlfriend like this. So pay for millionaire - quality or stay in USA to choose from escorts covered in tattoos and risk all of the above. Good luck!
---
sharma
23.12.2015
ATTENTION: Website www.ukrmodels.net is a scam. They took deposit and no sign of them, even after repeated email. Stay away from them.
---
Visitor
25.10.2015
I am staying in a very high-end hotel but cannot be seen in public with the girl. Can the girls come directly to my room. Or do I have to meet them outside and bring to my room.
Answer: In most hotels it's impossible for girl to come directly to your room, you need to meet her, because she can't even get to the elevator without the key to your room. You can meet her next to elevator, but to find out the details about the rules of hotel you're staying in, you need to call our manager.
---
03.09.2015
Hi - the same question about Alina - does she really like sex with girls?
Answer: yes, this lady is eager for ladies and she is bisexual by her nature, so lesbi experience with her is always bright and interesting.
---
03.09.2015
Hello - how much experience Varvara has in sex with other girls? Does she really like it?
Answer: zero experience, she never tried it before, we just added this service today, because this girl is curious to try and interested to have some new experience in this area. So you can invite her and find out on your own.
---
R
11.03.2015
ATTENTION: Very bad experience with www.moldescort.com where I did not receive any reply to my emails and SMS's after they have collected my prepayment over 400 Euros to Western Union for a meeting in Switzerland. If people hear that I am from Switzerland, it is allowed to cheat and lie to me. I do not trust in Escorts anymore. The customer is always in the bad situation.
---
Jay
10.03.2015
I want to thank you for the services provided to me in Kiev. All girls performed as described before and I really enjoyed my time. I am sure we will do business together in future. And thanks to the girls.
---
ANT
24.02.2015
I am not on English-speaking but for all side to get it I am writing in English and I would like to write to girls, not to agency or clients and would like operators to ask them to read . I know his is business but I will light on human side of what you girls doing means for me in order to keep your nice tales up . I can imagine what you girls going trough and would like to ask you "always look on bright side of.."You making me feel a king , a man and whatever needed for guy to be on surface and fall in love every time looking in your eyes ,Is this not a magic to feel what already forgotten for a long time and repeat it more and more for this short hours You are not a shadow of western hookers but soul doctors this what it means for me lets say Dalay Lama's of mans sexual spirit .It comes to the level when my sexual "ago" surrendered to grate personality and sunny smile of SOFIA and feeling of close friendship with worm hugs with VIKA and grate romantic evening with TATIANA I felt like a bee going from flower to flower and always it was unique honey And all this without any tension and easy going .I know that it was my subjective impression and maybe you felt different but thanks for this any way even it was maybe a fake just make someone feel good . This what we are going for to theaters and your show are not so bad despite no one taught you and did a makeup but wise female nature and wisdom . Look on this period of your life in proportion to what I wrote above . Take care of yourself !
---
07.02.2015
New pics of Ksusha: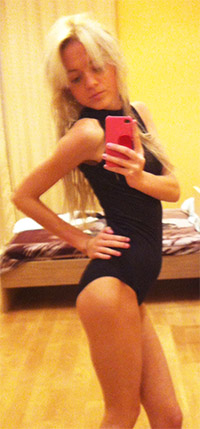 ---
Murad
04.02.2015
ATTENTION:12.12.2014 - I just had a scam with www.ukrmodel.net. They demanded me to transfer 1150 USD for a trip to Germany for 3 days for aigrl and they disappeared. They are really cheating people. Just publish it for others not to be scammed!
---
S.R
09.12.2014
The very best escort agency in Kiev I had several Girls from Gia and except one girl all other have been very good and pleasant, many agency send some one els then photos and most of them don't write the girls real age but by GIA is that not the case, I also have Girls visiting me in europe and only had good experience, the one manager I know KRIS....... is very professional , kind and speak very good english.
---
Sal
11.11.2014
The reviews are correct about Gia, they are the BEST escort service in Kiev!! I have tried another Escort Service once before and I did not have good experience, they switched girl on me and she was nothing like I requested. I called Gia Escort Service last night, the operator was very nice and helpful, a couple of the girls I requested were not available but the operator did get me a girl I enjoyed ;-)) they really do care about customer satisfaction. They are a bit more expensive than other Escort Services but I think they are Worth It!! I will call Gia Service again if I am in Kiev. Thank you Gia for being honest and helpful.
---
Sim
10.11.2014
I have to say all the girls I had from your site when I was living in Kiev were good or great and Gia is the only agency I would think to use anywhere!
---
M
11.10.2014
ATTENTION: I have a very bad experience with Devuschkione www.devushkione.com agency. They got the downpayment and dissapeared. Fucking fraud !!!!
---
Steven
14.08.2014
Attention: Spoiler Alert! First, Great Agency. They have done everything that was possible to help me invite Larisa to spend some time with me in Dubai. The manager kept a tight rapport with me to facilitate this trip, recommending Larisa, travelling, and Visa. It was smooth set-up and worked like magic. Second, Larisa. Refreshing skin, amazing body, it is rather complicated that you would need to spend a very long time trying to understand which part of her body is the most beautiful. The pictures underestimates her calm and original beauty. And the smile, well it gives you the feeling of satisfaction and familiarity, like you have known her for a long time. I could spend ages describing her body but the synopsis of this discovery is that you will find exceptional body parts that you cannot get enough of looking, touching.. and you know..! She takes no joke when it comes to cleanliness, in other words she was edible. Third, Larisa. As personality goes, she was very easy to talk to, intellectual, and confident. She is not a person you mess with, she respects you, and she needs to be respected. For the casual time we have spent together, she was so nice to be with, like you are spending time with your girlfriend, she kept my phone and my medications in her purse, and kept reminding to take my meds. And when you are out with her, she acts like you are the only person there. Forth, this whole experience was great, I would have asked Larisa to marry me if she liked me a little bit lol. If you need a young female peer that you can be yourself with, and enjoy the company. It's Larisa. And if you need an agency who are true to giving the best service it's this agency. Thank you. It was real fun
---
30.06.2014
Customer S: Dear Manager Gia Escort, I want this review to be poster for all men to see! I am writing in regards to the so called escort LESIA (L.) worst escort I ever meet. On more than one occasion she refused sex and never gave head, Upon meeting her she seemed very nice, but wanted to go dancing since I booked her for two days I figured take her out to dance and get to know her better hoping it would enhance the sexual experience. She is a lady with personal problems and I guess I felt sorry for her. We returned late in the morning and finally we had sex but she was unable to bring me to an orgasm. We slept late and when we woke I wanted sex and she refused so I gave her time to recover from the previous night. I cooked her breakfast let her rest and finally I wanted sex no go. I told her if you are not up to this you can leave and I will call manager and get another girl. Finally, she did her job now I will admit it was a very good session, but boys after that she was done. I spent the next day with her and nothing no sex! She slept, smoked cigarettes, whines about her problems and more. She would say, "I am tired, do not feel good, and I hurt!" Now I was an idiot to put up with this behavior but I did feel sorry for her. Men, do not I repeat get her for more than 2 hours a total waste of money. She should get out of this business and I am a total idiot to feel sorry for her, but she knew what she was doing she sensed my soft heart and took advantage of it. I am so dumb to let her take advantage of me. Now I called the agency after she left and they were very sympathetic. They offered me another lady at a significant discount very fair, but I decided to cut my losses and did not get another lady, because I wasted my money on her. I have used this agency before and all the girls I have before were fantastic, for comparison I had a lady for a day and half and it was constant sex several session but compared to L. only TWO sessions in TWO day she was a joke and me an idiot to fall for her sob stories. She was terrible! MEN STAY AWAY FROM THIS ONE!To Manager now I am sure she will tell you a different story. I was kind to her took her food shopping for anything she wanted. I treated her with respect and like a lady, never was I not ready for sex! I cooked her meals and helped her learn English that is my job I teach English. She is a very clever lady and smart. I never realized how good she is at manipulating people until after she left and had an evening to think about the past two days with her. I really felt sorry for her and did not want to get her in trouble; she realized this and took full advantage. Also in my conversations with her she told me on the second day she preferred short term clients. She said I make more money. I do not recall her answer when I asked her why you accepted this job. In fact I do not think she answered it. IN many ways this is my fault I should have told her to leave the first time she refused sex, but I wanted to give her time to show her that meeting an escort is not all about sex, which it is, LOL! I did not want to treat her like a piece of meat. I guess I should stick to real ladies and not escorts. In my mind she should forfeit the last 20 hours she spent with me since she did not perform her job. It is her job to make men comfortable and perform sex not just sleep, talk on her cell, smoke cigarettes and take advantage of a soft hearted man. I repeat we had no sex for the last 20 hours, when I realized this after she left I said me so dumb and she so smart. When I asked her for sex more than once in that period of time she replied you do not have to have sex everyday are you serious and so dumb of me to take that answer, like I said I felt sorry for her. I have no idea what you think about this and I am sure she will have her tale to cover. I feel she should forfeit her pay for the last 20 hours and that should be credited to me for another lady. I realize this is not possible. The manager on duty last night offered me a 200 dollar discount for another lady. If I was the manager and new the complete truth she should lose the 20 hours pay because she did not do her job and me I need a kick in the ass for letting her get away with this. It will be a long time before I consider meeting another lady from this agency sorry I feel that way, but I do. In the past any lady I met was ready for service immediately always kind, caring, and willing to try anything this one L. was not ready, only asked me once what I wanted and that is when we meet, never did I tell her I do not want sex! When she did ask me I told her let's get to know each other first so we went dancing. I guess she saw her mark and an easy job and was very good at it. I gave her 1,300 dollars OMG! As you can see I have had time to think about this and cannot believe I am such a fool! 1300 dollars for 48 hours is a rate of 27 per hour over 20 hours that means that young lady fleeced me and you 540 dollars. I completely know this is not possible but I think she should pay for another lady. I will be in Kiev until tomorrow I leave at 8 am Monday! Anything you feel is fair I will consider. The discount offered to me last night seemed fair at the time after sleeping on this and I realized she did nothing for the last 20 hours I did not get fucked I got fucked and it is my stupid soft heart that did it, LOL! Once again I have always found your agency one of the best in the entire world; anything you feel is fair I will consider. Sorry for the complaint but you should know how she performed on this meeting. Best Regards, S.
GIA: Dear client! Thank you for leaving this note to us. We've already talked to L., this won't be happening again. This girl is tired a little and she will be taking a vacation for 5 or 6 weeks. We insist on clients telling manager that something went wrong, especially when the meeting is scheduled for a long period. We are changing the girl instantly when this happens. This time we can give you our sincere apologies and make a 35% discount for any of your meetings with our girl in future. Manager will contact you and discuss all the details and we will get you a lady that will better your mood with 100% guarantee.
Customer S: Hello GiA manager!I was very surprised with you kind attention to my issues. Thank you for taking the time to call me and resolve this professional. As to TANIA she is a soft, fragile rose petal and I mean that in a fantastic way. She arrived on time and looked like Marline Monroe with out the rack, LOL! Her English was very good considering her level. She was very attentive, always smiling and laughing at my silly jokes we connected immediately. Never did I have to ask her to tend to my needs she new when to respond. Oh, she did forget to bring a condom. LOL, but we both adjusted to the situation. Her ability at oral sex is very interesting. In many ways she is opposite to L. in bed she responds well to slow passionate play, while L. is a tiger. I truly enjoyed my time with Tania she is a jewel, who needs to be treated in sex play like a soft kitten very amazing process. If I am ever again in Kiev she is my first choice. Thinking back a little I wish I had picked her first I believe she is better at long term meetings while the tiger is a 6 to 10 hour lady. That does not mean L. is a poor employee. We all caught her at a bad time and she made mistake like we all did she was tired after returning from Nikolayev and forgot what her job was and was thinking I need the money we all do that at times. I wish her well and she is a tiger in bed maybe to much of a tiger for her own good for she lost her energy on Saturday! Best Regards S.
---
S.Rached
31.03.2014
I just had a very bad experience with UA agency www.devushkione.com - "Devushki One", who took the 810$ deposit and disappeared. It was obviously a scam. What makes your agency different? And what garanties you give.I was looking for a three day trip to my house on the Red Sea in Egypt, arrival on a Sunday and departure on a Wednesday. Best regards, S.Rached.
-------- Answer: We feel sorry for your disappointment. It's good that you found GIA agency now you have a chance to find out that not all escort agencies in Ukraine provide you scam, some of them provide you best girls and best mood. We know what our clients want and we grant their wishes easily.

Down to business. Heres our guarantees. Our agency works for 14 years already since 2000. We have many real reviews all around the web, you can read them many of them were left by foreigners who were searching for decent agency like you do now. We gained their trust easily with quality of services we are providing. Reviews are useful and it's better you read them before placing order and sending deposit. All the ladies were offering are real. Were placing studio and real life photos, because we want our clients to see that girls are not fake. Also were making videos with them (were the only agency to do that), so you can see lady from each side before spending time with her (please notice, that not all the girls have videos, but all of them are real it's just a question of time to make all the clips). Our reputation is priceless, we don't want to disappoint our clients, so you can find our office phone numbers. They are regular city numbers, not cell numbers that can be changed easily in the blink of an eye. It's additional guarantee that you will get high-level service, not scam. We are working clearly, without any hiding. It is rare for escort agency, but we value our clients security and our fidelity highly.

GIA agency is thankful for your trust and we will do our best to assure that you were not wrong when you chose us. You can always discuss all the questions that appear suddenly with our manager. Best regards
---
Q.....
30.10.2013
Oh our GIA: Please let the breasts of our girls remain as natural as the mighty lord intended, not to be touched by the scalpels of any plastic surgeons. Even small perky chests are way better & very beautiful than those artificially inflated silicon boobs.
---
R
21.08.2013
Hello! First I'd like to thank you for providing me with top quality service. I had Alla come over here last week and she was PERFECT. Congratulations on being the best agency I've ever experienced. Now, I'm interested in booking a different girl soon.
---
Quincy
21.08.2013
Here is another suggestion for videos & photo-shoots. In photos I admire to see girls in natural care free environments (parks, library, dinner table) and in very casual normal every day clothes with minimum make up but in high clarity pixels. Videos should reflect every day normal life of walking in the park or reading in the desk or enjoying an early morning coffee. These are simple pleasures but defining pleasures of a well matured adult. Thanks for your beauties.
---
Quincy
19.08.2013
Dear GIA:
I have great admiration for your openness, receptiveness and the way you have published my comments here unedited, unbiased. That's a reflection of high quality Michelin 5 star service, thus you have won my business for years to come. Thanks.
---
Quincy
14.08.2013
I'm an well educated, well seasoned world traveler and a sophisticated professional; met LARISA in Kiev as her 2nd client in May 2013. She spoke fluent English. We both roomed in a top class hotel at the top floor in the second most expensive room.

Her attitude really sucked though she claimed educated. First she complained about my request of business attire when the day was hot,I could have allowed her to ease up on her cloths had she revealed it earlier. Then complained twice why I was leaning against her during our walk while what I really was doing is leaning towards her to have a better view of the building architectures in the streets.

She was confrontational & cocky in the room and contradicting every one of my sentences,ideas. I was getting tired of her cockiness. Never once she smiled and have something pleasant to say to me. I arranged for 24 hours so went to sleep @ 10 PM. She watched her IPad until midnight but resisted to wake up @ 8 AM, I went to breakfast by myself, finally she woke up at 11 AM, despite several requests resisted taking a shower and brush her teeth. I mentioned it is important that she gives me company both physical as well as mental. I was so frustrated to the point where I told her that "may be she'll be happy at home rather than in my room". That is when She got up left after saying "bye", I declined to acknowledge her departure because she left 7 hours before her time was up. Credit should be given as well, where she was very enjoyable, cooperative in bed, smelled fresh and poses a spinner body..
---
W
20.07.2013
I have a few suggestion for your website if you would like to read them.
1st Is that your picture viewer is very inconvenient to use. On all websites that have pictures you can just click them to move to the next picture or use the arrow key to move to next picture but with your site you can only click on the arrow to move to next picture. I know this is a small detail but it does make the website feel a little amateur and is not convenient when i am looking at many pictures of many different girls.
2nd is your search option needs to be improved. For example: In the "Cumshot" selection box I wanted to find all girls who would do facial cumshot so I selected "on face" but it says "no models found" but we both know this is not true, there are many models at GIA who would do "on face". To find them I needed to select each option that included "on face" in the search, there are 4 in total, so basically I needed to do 4 different searches to find all the girls who would do cum on face. I would suggest to change that to make it easier to find a girl that fit's a clients desires in one search, not 4.
3rd I think you should put the reviews on the models profile page. Obviously still keep the review in one place as it is now but also let the model have the review on her page and then future clients will get an even better idea about that model and be encouraged if the review is good.
4th I have met with 4 of your models now and only one of them looked close to how her picture on the website looks like (Anna has the most accurate photos). My suggestion would to be to have at least 1 photo of the model where she is not wearing so heavy make up and have amazing lighting on face, maybe there was a little photoshop done to some girls too. I understand that they are great to help clients choose a model but also I think it's nice to see a girl for how she really looks too. One picture with a little makeup and clear picture of face I think would be good for clients.
and last, thank you for making this website, I used 2 or 3 other websites before I found GIA and every girl was FAKE, none of them was using a real picture. I almost gave up but I found your site and decided to try one last time to find a real beautiful Ukrainian escort and you sent her to me! The other girls you have sent have all been perfect! How do you find such great girls!? I need to know your secret! :)
Thanks.
---
Send comment