Kiev taxi services
The most commonly used transporting system in Kyiv is metro, but businessmen never use it, neither do our girls.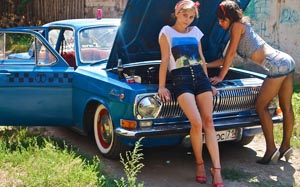 To get to some place in time and to feel yourself comfortable, you should use taxi. Taxi is one of the safest and quickest ways to get somewhere you need. So if you're feeling like you want to ask one of our ladies for a date and want your model to come quickly, use one of the taxi services mentioned on this page. We provide you with only those phone numbers that work and upload our pages in time to make them be actual all the time. Some of services are more expensive than other, and other are cheaper - you should choose the one you like the best.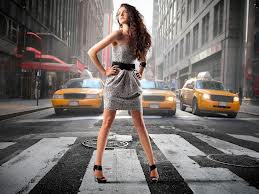 Taxi Comfort is one of the quickest and cheapest taxi in Kyiv. Also you can call them from your mobile phone absolutely for free. The number is 564-64-64.
Taxi Absolute is well-known taxi in Kyiv. It's known for low prices - maybe, the lowest ones that are able now in Kyiv. The main problem about this taxi is that their cars can be late, sometimes (very rare, to be honest) they don't arrive at all. If you need a cheap taxi and you can afford waiting - Absolute is your choice. You can ask for a callback from 455-95-95, or call on local numbers - 502-1-502, 502-13-13, 502-13-31, 502-1-333. Mobile numbers are 8 095 455 95 95 (MTS), 8 067 455 95 95 (Kyivstar), 8 063 455 95 95 (Life).
If you want to get the cheapest taxi within city limit's and don't want to wait, you can use the service of Dyakuyu (Thank You!) taxi. Their clients say that Dyakuyu taxi is one of the quickest taxi in Kyiv. Still they have some negative moments, like operators that can be rude sometimes, but it's ok comparing to expensive prices other companies can offer. You can make online request for taxi on http://www.585-33-66.kiev.ua or call them. Local number is 585 33 66, mobile numbers are 097 636 33 66 (Kyivstar) or 093 581 33 66 (Life).
One of the most expensive taxi services is Elite-Taxi. You can use Wi-Fi in some cars, you can also pay with your card (most of cars have all required technical equipment to provide you with banking). You can also choose the car you want to ride, even A-class cars are available - that's what makes taxi Elite one of the best services in Kiev. Of course service like this can't be cheap at all, so you can order one of the cars of this service if you are sure that you can afford their costs. And costs are really high and expensive. You can order a car online on http://elit-taxi.ua/, or call one of their local phone numbers - 238-8-238 or 248-8-248. Mobile numbers are also provided - 097 248 8 248 (Kyivstar), 050 248 8 248 (MTS), 063 248 8 248 (Life) or 068 447 22 22 (Beeline).
Also you can call and order one of Etalon-Taxi cars. This taxi service is one of the best, with quickest order processing (1 minute or less) and quickest car arrivals. Costs of service depend on where you go and in what time are you taking a ride. Also Etalon Taxi claims to be the only taxi service that can find your stuff if you left it in the car you were using. You can also call them if you want a car for smokers or car with POS-terminal (for card payments). This taxi service works for really long time in the city regular clients. You can make an order online from http://www.etalontaxi.com.ua/ or call their local numbers - 501 5 501, 502 54 54, 391 3 391. Mobile numbers are 067 463 54 54 (Kyivstar), 068 237 54 54 (Life), 050 340 54 54 (MTS), 068 382 54 54 (Beeline). Also on their site you can use the callback service, entering your phone and waiting for a call from the Etalon Taxi.
These Kiev taxi services will provide you the best service possible. Be sure to use one of them for our courtesans to come to your hotel room!