Video of real GIA ladies
That pleasant moment finally came. We are very glad to give you amazing news. Very soon our sexy girls' pages will be uploaded with not only photographs of them, but also sexy videos! Our clients like new stuff on our Kiev escort site, we feel that and we know that. When a new escort girl arrives on the GIA site, our phone gets all red and hot with your calls! You ask us about the possibility to meet her as soon as it's possible and taste this sweet little candy for the first time. So that's why we wanted to get you excited with something EXTRA new.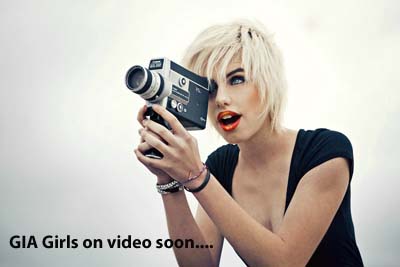 You could choose a girl by her photographs and characteristics before - nothing could stop you from that. All of our clients know about photos on the site - they are unique, real and tested. Each time they meet a new GIA lady, they make sure that we are completely true to them again and again. But of course we know that all of our clients are different. Some of them like apples, some of them like oranges. Some of them loves watching photoshoots all of the time, but others would like to watch girls video instead.
You can judge our escort agency by it's reputation. No need to waste your time - you can use Google to find a great lot of positive reviews with good comments on the great quality of GIA's sex services. It's well-deserved fact. We always try to make sure that our clients stay satisfied after meeting our courtesans, and we do our best to always improve our service to maximal possible level. That also can be said about our ladies' services.
Now we are totally and absolutely sure that each improvement is only for good for us both - agency and clients. Of course the first matter is you, our gentlemen! You can find much more from video, than from a photo only. New clients often doubt that such nice beauties can exist in Kiev for real, and sometimes they just don't have enough motivation to use our services. But be sure - once you see the video of Kiev escorts, all of the doubts will be burnt to the ground. It will be enough to see one video for any model on our site to get your phone and quickly call to set a meeting with this beautiful lady.
The World Wide Web is now full of cheating, fraud and false information. It's sad and we want to tell you and prove to you once again, that our agency can't be connected to any of these categories. We are true to you and we want to stay true to you. We value each positive client's review highly, so we do our best all of the time to make the number of these reviews grow by tenth and hundredth each month. You will like this upload, be sure of it. You have to wait for a few days, and then have your ability to see our lovely ladies in video!
Send comment