Welcome to Ukraine, marvelous country of unique nature and rich history. People here are very friendly, they are known around Europe as openhearted and hospitable. If you're planning to take an excited trip, you made the right choice with Ukraine. What you'll see here? Of course, due to unique history a lot of ancient churches, castles and museums are waiting for you here. But Ukraine is really modern country. Ukraine was opened for tourists after the Orange Revolution. Destroying boundaries, country got enormous benefit's. Now Kiev, the capital of Ukraine, has rolling hills, green parks and historical monuments. For your relaxation Kiev offer tourists exciting night life: numerous theatres, restaurants, clubs and casino. You have a great choice where to stay in Kiev. To help you with choosing a hotel, we decided to tell you about the best hotels in Kiev. There is also one criterion for selection hotels: they allow our escorts to come in. But anyway you need to meet girls downstairs and pay $20-$30 to security. Please, accompany escorts on their way back in hotel.

Hyatt Regency Kiev *****
This hotel has beneficial location. It's situated in the centre of Kiev. The Hyatt Regency Kiev hotel overlooks the old town. It's closed to Saint-Sophia's Cathedral and Saint-Michael's Monastery. For breath shopping you can quickly rich boutiques of Kreshchatick Street.
An undeniable plus is freely entrance with a girl.
* Problems with reception may arise in this hotel. They never call to the guest room if the caller can't remember guest's full name. So the only way is to meet a girl downstairs. After your meeting accompany your escort back to the exit. Security will not let a girl come in after 11 p.m.

Premier Palace Hotel*****
If you're looking for luxury service and free sex vacation without any problems, choose Premier Palace. First, everything here was designed in order to make you vacation like a dream. High class service, polite hotel staff and amazing decorations create unique atmosphere. Second, no one can stop you at night, if you come with a girl. It's only your own business. Of course, for such pleaser you'll have to pay, but you luxury vacations worth it!

Opera Hotel ****
As for the Opera Hotel it provides for guests something more than ordinary luxury service. The aim of staff is to round their guests with home atmosphere. Take a sip from a shinny glass of excellent vine next to fireplace, listen to soothing music and taste real pleasure with exquisite food. Of course the location of such a charming hotel is very comfortable. It's next to the downtown, 15 minutes from Kreschatik Street. You can freely invite girls here any time you like.

Radisson SAS Hotel****
The Radisson SAS Hotel is located not in the heart of the city, but really next to it. You may walk around here, don't bother about traffic and enormous cars and people. You'll meet here friendly and polite staff. The hotel is really worthy, but after 11 p.m. it's rather difficult to invite a girl to your room.

Podol Plaza ****
The Podol Plaza Hotel is also rather worthy place. Decorations in antique style are very sophisticated and elegant. It presents it'self as a boutique hotel, so it's true. Pay attention to the fact, that hotel stuff is delicate and helpful. You can ask for help anytime you need, even if you have some questions. The Podol Plaza hotel is privately owned, so it has more intimate atmosphere than others. This hotel is really friendly to beautiful escorts; invite them any time at night!

President Hotel ****
This hotel is definitely for active persons! If you want to seize everything, stay in President Hotel. It's located in the center of the city. But it's unique, because stepping right out of the hotel you can visit huge sport centers and enormous shops, museums and historical monuments, business centers and restaurants. More with that - around the hotel you can find a big green park. This hotel is very suitable for conferences and business meetings. The President Hotel is equipped with special business halls and restaurants. But after 11.30 it's difficult to invite a lady, and you still have to pay to security from 10 to 15 Euro.

Dnipro Hotel****
A good hotel in all respects. It's situated straight in the city center. This hotel is for good vacation of businessmen with all kinds of relaxation. Next to the hotel excellent strip-bar is opened for tourists. Nice restaurant with tasty food is also one of the advantages. But anyway you'll pay for girl's coming in 10-15 Euro.

Impressa Hotel****
If you like not large and private hotels, welcome to Impressa Hotel. There are no limit's for guests interests. Here you can meet businessmen, musicians or real amateur adventures. Guests like tasty food in Impressa and friendly helpful staff. It's situated in Podol, one or two minutes driving to the center of the town. You're allowed freely invite any guests to your room. Enjoy your stay in Ukraine!

Sherborne Guest House***
In this hotel you'll get worthy services for obtainable price. Everything here is warm and intimate. The location of the hotel, 5-7 minutes to the center by car, safe you from noise of the city. The decorations of apartments are elegant, home atmosphere should help to relax. It's important, that in your apartment you have a kitchen. That can save your costs, but it's also simply comfortable. The hotel staff is not curios, they value your privacy. So if your vacations are the secret and you want to spend them with a cute girl from ESCORT.VC Service, book Sherborne Guest Hotel.

Gintama Hotel***
Gianta is for those tourists who like simplicity. The rooms are well-decorated, fresh classic design is also comfortable. It's also located in the Kiev center. Invite your guests any time you prefer.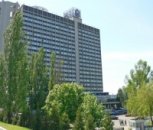 RUS Hotel ***
The RUS Hotel offers to it's guests a convenient location in the center of Kiev. You are freely able to attend important business meetings or cultural places. All entertainment complexes or some places for relaxations are around RUS Hotel. Don't worry about the service. You can judge the service to guests, who stayed here. Popular policies, scientists or artists preferred RUS Hotel during their stay in Kiev. While this hotel has a great value among public people you can't freely invite girls to your room. So pay to security to make it easy and quietly.

Domus Hotel***
Domus is in the suburb, so to get to the center of Kiev you'll have to drive nearly 10 minutes. This hotel is for kind of persons, who enjoy peace and quite. No businessman, without haste and noise, this home atmosphere is for lovely solitude with cute girl. All around here is extremely romantic. The Domus hotel is located in Podol, little romantic city. Enormous warm and cute cafes are opened for both of you!

Dneprovskiy Hotel***
It's really exciting to live here. This little hotel is in the water, so you're just like a ship traveler. The rooms are well decorated like cabins. The hotel is warm and friendly. There are no problems with registration of your guests.


PHARAON HOTEL ****
That's the most unforgettable hotel in Kiev. It combines unique design in style of Ancient Egypt and at the same time it's standing on a river! Just imagine what a extremely cocktail it is!But it also provides guests with high class professional services. You can order Standard room or Lux. Delux and Emperor are also available. Feel yourself like Egyptian pharaon, try luxury service of our hotel.

HOTEL RIVIERA ON PODOL ****
It's a boutique hotel, that provide you with all possible benefit's. Excellent location in the centre of Kiev, not far from Borispil Airport is really suitable for businessmen. But guests are also closed to historical and cultural centre of Ukraine. So get the best from your journey, book Riviera on Podol!



PERLINA DNEPRA FLOATING HOTEL ****
No matter with what goal you came to Ukraine the hotel's staff will provide you with high-class service. In Perlina Dnepra Floating Hotel businessmen, art-people or just romantic couple will enjoy warm atmosphere of amazing city. The experience of living here is really catching because of the River energy.

OBOLON HOTEL ***
This hotel is the most modern around Kiev. It was built recently; guests appreciate the situation of the hotel. It's far from noise of big city and gassy air above the roads. That's a hotel in prestigious region, so people here are really polite and open-minded. Another advantage is design. It's fresh and not pestiferous.

DNEPROVSKIY HOTEL ***
Did you see amazing stars in the sky above the Dniper? That's unforgettable experience, that you can get living in the water hotel Dneprovskiy. The air above the old river brings strength and energy. On the one hand, you're among unique nature, but on another hand you can get to the center in few minutes. A lot of popular show-business stars and art-people enjoy living here.

HOTEL SONYA ***
That's a definitely unique hotel. Small size and friendly staff made the hotel extremely attractive. You can see that in Sonya hotel there are only 10 rooms and they absolutely differ. Moreover tourists can find a room that expresses their character. The staff always does their best to satisfy guests.

SENATOR APARTMENTS ***
It's a pack of different professional apartments for businessmen in Ukraine. High class service allows guests to feel home atmosphere.