INCLUDING
EXTRA CHARGES
| | | | |
| --- | --- | --- | --- |
| 1 hour : | 200 $ | 5610 UAH | 182 € |
| 2 hours : | 300 $ | 8415 UAH | 273 € |
| 3 hours : | 350 $ | 9818 UAH | 319 € |
| 4 hours : | 400 $ | 11220 UAH | 364 € |
| 6 hours : | 500 $ | 14025 UAH | 455 € |
| 10 hours : | 750 $ | 21038 UAH | 683 € |
| 1 day : | 900 $ | 25245 UAH | 820 € |
| 2 days : | 1300 $ | 36465 UAH | 1184 € |
| 3 days : | 1800 $ | 50490 UAH | 1639 € |
| 4 days : | 2300 $ | 64515 UAH | 2095 € |
| 7 days : | 3500 $ | 98175 UAH | 3188 € |
Captain
28.06.2014
Boobs are wonderful as well as Zlata's body in common. She's really slim and she has this special something that most of girls are missing. Some elegance and mystery I guess, you can't count her as an open book by one meeting and that's why you want to see her again and again. I had one meeting with Zlata and it was for 2 hours, and now I'm thinking of seeing her again. Sex is good, but her appearance and feminine aura is even more captivating than the possibility to fuck her.
---
ADMIN
21.06.2014
New model Zlata is here to show you her sexy boobs!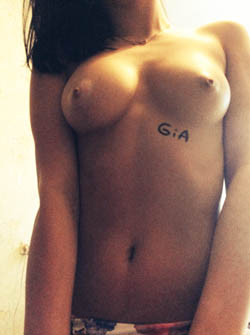 ---
DT
12.06.2014
Zlata is quite possibly the most beautiful girl I have ever seen. She could easily be a centerfold in any magazine. Just being in her presence is worth the price of admission. As you see from her profile she is very young and her skills as an escort are still in development. In bed she seemed unsure of her self and a bit timid for my taste.
---
Send comment