INCLUDING
EXTRA CHARGES
| | | | |
| --- | --- | --- | --- |
| 1 hour : | 250 $ | 6725 UAH | 224 € |
| 2 hours : | 350 $ | 9415 UAH | 313 € |
| 3 hours : | 450 $ | 12105 UAH | 403 € |
| 4 hours : | 550 $ | 14795 UAH | 492 € |
| 6 hours : | 700 $ | 18830 UAH | 627 € |
| 10 hours : | 1000 $ | 26900 UAH | 895 € |
| 1 day : | 1200 $ | 32280 UAH | 1074 € |
| 2 days : | 1800 $ | 48420 UAH | 1611 € |
| 3 days : | 2400 $ | 64560 UAH | 2148 € |
| 4 days : | 3000 $ | 80700 UAH | 2686 € |
| 7 days : | 4000 $ | 107600 UAH | 3581 € |
ADMIN
19.06.2014
Look at posh titties of Vika! She's so seductive!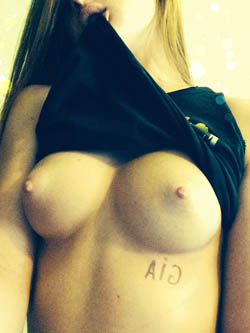 ---
Jason
31.05.2014
She's so very bright! Bright like a burning candle, she's absolutely insane and very young, and this energy that's coming from her... Absolutely flawless! I couldn't resist Vika's charms... We've spent a night in my hotel room though I thought to have a meeting for two hours and now I think it's a blessing that she had that night free and I could stay by her side till the morning light. Wow, really posh girl!
---
Dave
14.04.2014
Hi, do you have photo of vika with open face?
Answer: Ask GIA manager for the password to see pics with open face, call us at +38044-586-40-90. Put the password in the form on her page.
---
Send comment