S@Kiev
06.04.2014
I spent a couple of hours with Tina yesterday. In a city that is known for false profiles and agencies that play bait and switch, I was pleasantly surprised when she arrived at my hotel. Although the pictures are recent and accurate, she is much pretier in person than what the pictures suggest. She was also fun, relaxed, and focused on me. It was a very pleasing experience, I was very comfortable, and she made me feel as if she was also having a good time (which may or may not be the case, but she made me feel that way). It was close to a real GFE as I've ever had. Her English is good enough for a casual conversations, and she was very open in sharing personal details, which also contributed to a sense of closeness. Tina is a lovely lady, I wish her the best, ant thank her for a very good time. I hope I will be able to meet her again in the future.
---
TINA
15.02.2014
Wish you Happy Valentine's Day !!!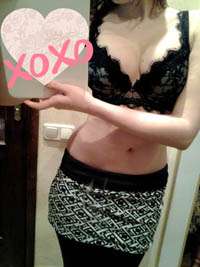 ---
Donald
15.02.2014
I had a wonderful, relaxing time with Tina! She is a very nice, sweet and exciting young lady! I am very glad she was recommended to me. She is much more beautiful and lovely than her pictures; warm hugs and kisses to make a person comfortable. A real GFE. I look forward to seeing her again in Kiev as soon as possible! Absolutely! A real jewel! :-)
---
TINA
02.01.2014
My new dress - real photo!!!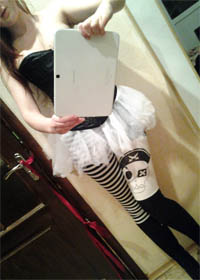 ---
X
27.12.2013
What can be said about Tina? I could write a book on the positive things this pretty young girl has going for her. Firstly she greeted me with a bright shining smile, a warm hug and a kiss, that was so perfect and right away we both can relax with each other. She is a very interesting person and her level of English is incredible! We could talk about any subject and relate so well because she understands everything and I understood her perfectly too. And that continued in the bedroom, she has such a perfect sexual instinct! Every moment was one of perfect extacy and just when I feel that it couldn't get any better she suggests sex in the shower! Wow! She was full of ideas. Tina is really the complete girl, easy to talk with, interesting, intelligent, beautiful (obviously her beauty in real life is much higher than any photograph can show), funny and really the best in the bedroom, like her hair.... she is FIRE!
---
TINA
17.12.2013
1) Boys, now I got myself some ultra sexy Santa's little helper suite with incredibly short jeans shorts and lace bodysuit. Want to catch a glimpse of me dressed like this? Call me!

2) Oh and by the way. Since 2014 I can travel the Europe, so I will be waiting for some travelling invitations right now!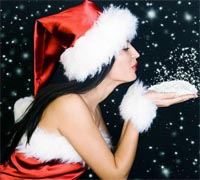 ---
Steve Ah.
01.11.2013
New naked pics of Tina, please!
Answer: Attaching Tina's picture. She's a sweet girl, very entertaining and smart. Professional massage skills with some tender erotical note for your pleasure. All of the clients are in awe of her service - no bad reviews at all! Easy-going, good both at escort and intimate meetings. You can ask her to dance, clients love her dancing. Evening with Tina will be an evening to remember.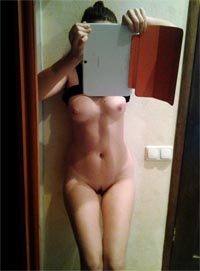 ---
Robert
24.10.2013
I had this girl as a substitute because my choosen one couldn't come, so manager adviced Tina. Not bad, indeed. A pretty young girl which really tries to serve. She is really beautiful and a specialist in massage. I liked to relax under here hands. And more later. I definitely can recommend this girl, good attitude, willing to do her best and the client is the focus. Great service again from GIA, definitely!
---
Send comment