Rick
26.07.2020
She doesnt offer lesbi services anymore?
Answer:Yes.
---
Andreas
21.07.2020
Ksusha is the ideal alternative if you are looking for true girlfriend experience with a beautiful Ukraine girl in Kiev. She is a wonderful combination of stunning and wild, but also very naughty and sweet personality. She is responsive, beautiful, sexy, well-behaved, and very sincere girl who tried hard to make me satisfied. I had a tender, hot, and passionate time with her. I still miss caressing the amazing curves of her body and touching her soft and smooth skin. Hopefully, we could meet again soon.
---
James
26.01.2020
Hi, how can it possible group with 3 person without anal? Do you mean one by one?
Answer: yes
---
joel
22.12.2019
hi Ksyusha looks amazing i never been to Ukraine but i want to visit within 3 months if i take Ksyusha for a week or a other girl from your agency can they show me around in Ukraine like going to Odessa or other city ? and do i have to pay a deposit when i book one of youre girls before i arrive in Kiev?
Answer: yes it is possible. Сall our english-speaking manager from 10-30 till 23-30
+38044-364-88-68
---
K
03.11.2019
I had a jolly good time chatting with her the other day. She knew how to make men pleasant. I appreciate it. Thank you Ksusha!
---
Patrick
29.08.2019
Ksusha is incredibly beautiful, but what is more important, despite her limited English she has a captivating, pleasant and warm-hearted personality. With no doubts, she is kind, happy, bright person. The photos are highly accurate, though they can't reflect all her beauty and charm in real life. She clearly wanted both of us to enjoy ourselves and brought out a couple of toys. Eventually, she provided an excellent and energetic restoring massage. I'm happy to recommend her professional service for the great experience.
---
Larry (ICE) Kajmowicz
14.08.2019
I would like to hire ksusha to come to San Juan Puerto Rico. I'll be there Thursday til Monday. Would love if she could join me the whole time. Let me know.
Answer: Сall our english-speaking manager from 10-30 till 23-30
+38044-364-88-68, CHAT Telegram @kievcare
Mail to: care.kiev@gmail.com
---
Steve
03.08.2019
Ksusha is unbelievably hot and sexy. She is like your neighbor girl with a warm smile and willing to please you. She has a slim body and a great attitude. If you ever had been hitting on the girl living next door but were too shy to ask her out, then this is the great chance for you. Fabulous atmosphere with a young and fantastic girl made things really hot. Did I mention she has one of the softest lips I have ever kissed? I recommend and I hope to visit her again in next my trip to Kiev.
---
K
01.08.2019
Very nice, pleasant person. Petit girl loves doing blowjob
---
DavidH
16.05.2019
Christ!!! Ksusha is beyond awesome!!! I've not met this girl yet but I'm already turned on by her photos and comments from previous clients! I will be in Kiev from June 13th for a week and this sexy beauty will definitely be on my hit list and it's beyond me how I missed her on my 2 previous trips and using the excellent services you provide with all your beautiful ladies??!! I would like to book Ksusha on June 13th from 18.00 to 22.00. Would this be possible?
Answer: Ksyusha will be available on June 13 . Contact our Operator
---
Tom
09.12.2018
Ksusha is so fucking sexy girl that I even didn't expect arranging the meeting with her. I gave her a long and deep kiss when we met and she quickly returned it. She is very sensual and has a good feeling of the situation. We got much fun together, a kind of romantic too, that made that moment so special for me. Thank you Ksusha.
---
Eric
27.04.2018
Ксюша - ХОРОШИЙ ЧЕЛОВЕК, большими буками. уважаете ее.
---
RIchard Hammond
27.04.2018
Can Ksusha travel to Europe? To Rome, Barcelona or Paris. I would really like to meet her for a week if possible Thanks
Answer: yes, she can! Please read our tours policy and then contact us to make a booking!
---
Mr. Nice Guy
26.04.2018
Hi. I met with Ksusha yesterday. I am very glad that she returned to Gia, and it is very good that Gia welcomes back returning good models. I have met with Ksusha a few times before (please see my previous review on 06.04.2017) Ksusha is still fabulous and beautiful outside and inside, with very pleasant and friendly character. I would like to see her again.
---
Jesper
23.08.2017
Wow what a lovely girl. Hade no idea she could be so perfect. Best night of my life. Started thinking of when I was able to come back right after she left. Angry with myself for not making my meeting with here in the beginning of my stay. Now I meet here my last night.
---
George
10.06.2017
Hi, Met once Ksusha : wonderful experience, really ! For the next time, could you tell me which toys she can bring ?
Answer: Ksusha is a pro and has a lot of toys for your and for her pleasure. You can ask our manager which are available. Also, if you want her to take toys, you have to call in 3-4 hours and warn a manager about wanting to use them, so she wouldn't forget.
---
Sam
25.05.2017
Excuse the naive question, but what exactly is slave services?I know of BDSM,is this any different?curious to find out,since it's not something we see often in America?thanks
Answer: it's light bdsm, yes. Submissive services, but without any painful moments and leaving marks on the body.
---
Saman 05.05.2017
11.05.2017
During my today's visit in the second day I met Kashusa for one hour at my hotel.She came in time and waited me at the hotell lobby..What a young slim model like cute girl she was..A smiled face and having a beautiful eyes anyone can feel love at first sight with her..She hugged and gently kissed me when we got inside the room.I kissed her deeply with my tounge and she replied me too very quickly..She dressed off me and licked my two niples after my wish which is very sensetive for me thereafter started to suck my dick into the deep through...I started to licked her beautiful puusy and she got wet very quickly..then I fuck her long time in different positions which she was enjoying very much too..Whole time she putted her eyes on me except when I took her from back position...During this super sexy willing girl I forgot time and place..Finally we came together at a time after full satisfaction body and soul..holded each other in bed few minutes..Started to be excited again.. she was ready but I was rather tired and exhused by Dominica day before...So I was not sufficient hard to fuck again being a senior man over mid sixty..Kashusa can be a loveable dream young girl for all ages..She can full fill all type of sex desires for anyone which I can ensure.Contact GIA and try to meet those wonderful sex partners and you will never be disappointed.Thanks to GIA s manager Kristina.
---
Very Nice Guy, 06.04.2017
06.04.2017
Hi. I met with Ksusha today, my second meeting with her. She is fabulous, and really a super girl. Beautiful outside and inside, with a very pleasant character. She is very nice and always ready to please, naturally. She learned fast what I like. Very good personality and very friendly. Everything we did was very nice and pleasant: talking, kissing, and sex. I want to see her again. Gia's service is good because they filter the models and hire and keep the good ones. This saves me a lot of time.
---
Roland
18.03.2017
Ksusha is perfect! She is very attentive and always ready to have a good time. Not only is she gorgeous, but she is always smiling and friendly no matter the time of the day. She is by far the nicest and sexiest lady I have ever been with, as well as being young and fresh.
---
Fantasy
15.03.2017
I would like Ksusha to pretend to be sleeping or dead while I have sex with her. I will be gentle. Will she do that?
Answer: this is possible, but you have to warn the manager in order for her to be aware of what you want.
---
George
20.02.2017
Without question simply the best ! Even more attractive than photos show. Arrived on time - so willing to please- awesome experience. Will be back
---
Glenn
10.02.2017
Can Ksusha REALLY deepthroat? I often see girls claim to be able but not always the truth. Can she take a normal size 17cm cock completely down her throat?
Answer: she says that she really delivers on her promises and she will do her best to satisfy you completely!
---
E.
06.02.2017
Hi Gia, I've read a lot of reviews regarding Ksusha. Most of them were great but a few were pretty bad (I really respect the fact that you publish also the bad ones- it shows that you are a reliable agency) - mostly about her leaving early or not showing up at all. Is there some reassurance that she will be on her "good" side if I will book her for a day or two? Thanks
Answer: Ksusha is really a pro, one of our GREATEST girl. You can book her without any shadow of doubts. Our clients really love her and adore her.
---
Tim
04.02.2017
Is her English level sufficient for say, basic conversion? Or is it just basic yes/no?
Answer: she understands English well, but her speaking level is quite basic, yes/no and basic phrases like that. But that doesn't take from her charms ;)
---
E
04.02.2017
Is Ksusha GFE type? I am looking for something pleasant and friendly, will she be suitable? Also, is there some updated pic of her/her body? Current pics are rather old I believe. Thank you
Answer: Ksusha is ABSOLUTELY a GFE type! She's very friendly and you will love your time with her. Her body looks flawless now, you can look for pictures where she has red hair - they are current. We will upload some new pictures soon, but don't even worry - she is just perfect.
---
Larry
31.01.2017
Hi! Ksusha looks like a wonderful little princess. Just have some questions - the profile says she gave birth, is this correct? Is her profile pictures accurate and recent?
Answer: yes, Ksusha gave birth. Her body hasn't changed a bit. She looks just like on pictures, but her hair is red now. We will be adding new pictures soon, though!
---
Harry
29.01.2017
Omg Kshusha is back!!!!!!! Welcome back darling girl! I hope she has been well? I want to invite Kshusha and Ira for Lesbi and Domination!!! I hv always fantasized about two dominatrix and what a way to make that dream come true. Are Kshusha and Ira comfortable with each other?
Answer: yes. they are! You can invite them at any time :) This is a really good choice and you will enjoy your night together!
---
Dmitri
10.03.2016
Ksusha is the best. I have met with a number of GIA girls but Ksusha is the best hands down. Talking about relating to the client. And in bed she was purely superb. My next visit to Kiev - Ksusha gets all my tips. Thank you darling.
---
18.01.2016
What things Ksusha does with extra price 60USD for slave.
Answer: only light domination.
---
Joe
09.12.2015
How experienced is Ksusha in domination? Will she do fisting? She offers strapon service, does she have a strapon or dildos? main thing is, is she into this kind of domination. sorry for all the question.
Answer: Ksusha can dominate, she has some experience on topic. She can do fisting. She does not have strapon of her own, but she can use yours. She is into this kind of domination. And you're always welcome to ask us any questions you have on girls, we're here to help you with your choice!
---
Alan
06.08.2015
I'll add another positive review to the long list of good reviews: she's as close to "perfect" as you can get. She's absolutely stunning, very sweet and personable, her understanding of English is definitely better than basic and she's very talented in sex and loves to please. I don't like giving very intimate details, but Ksusha gives a 100% effort that is passionate and shows that she's enjoying herself and she genuinely enjoys pleasing her partner. She's gem, should be treated like gold.
---
glock28
24.04.2015
Will she take just fingers in bum.and do i have to bring my own protection?
Answer: Yes, she will.
---
Lauderdale
18.04.2015
She swallowed and kept on sucking till I begged her to stop. She loves cum, she suck me dry -twice-. The girlfriend I never had, will repeat. She is fragile and sweet and gives herself totally, can't ask for more. At a discount it is a steal, she is worth triple that price or more
---
Pedro Toronja
16.04.2015
I tried about half -or maybe more- of the Girls of Gia. First, let me tell you this is a very good and reputable agency. The girls are real and the only photoshop is to make the skin look perfect, all the rest is exactly as in person. Having tried most of the girls, Ksusha is THE BEST of THE BEST. She is the beautiful, young, beautiful girl of our dreams! She is clean (very important!), smells and tastes perfect, she has beautiful petite body and very tight pussy making you feel it very much! She LOVES sex and is very dedicated to make one happy. I saw her several times, and she will NOT STOP until I am completely satisfied! Guaranteed to please anyone, take my word for it! Enjoy this jewel in the collection of Gia! Be nice to her please, she is supper nice girl!
---
Stephen
04.04.2015
I just want to say that-and I hope Ksusha knows it-I think she's such a beautiful person in every way. When I look into her eyes I think of a girl I saw in my dreams-a female with every desirable feature and trait that I crave and want. I really admire girls that keep themselves so naturally pretty and beautiful by keeping such a goddess-like figure-inside and out-and appearance. I won't ask for her secrets on that topic though. :) I really look forward to meeting with her some day. I know that I would never forget our times and experiences together. Does she like to go out during meetings and enjoy other experiences too?
Answer: Yes! Ksusha is really romantic person and she just enjoys being with men, spending time with them, talking and going out. Guess you just figured her out right! She loved reading your comment by the way and she wait's for the meeting with you, so hurry up!
---
albertacowboy
26.03.2015
would she do a video with me ?
Answer: She CAN do that, but it's up to her to decide and you need to meet her first. On the meeting she will decide if she agrees or not. But you will stay satisfied with her anyway, she's one of our finest models and she's always ready to give a man some pleasure. She's waiting for your call!
---
Oscar
22.03.2015
Saw her today. She is very young, slim, very sweet! all natural, enjoys sex, really wants to please. A wonderful experience, will repeat. Please be nice to her
---
Stephen
18.03.2015
I'm just wondering if Ksusha likes to get tied up in bed as well as play other games too. Does she have any tattoos or piercings? She is so naturally beautiful and has such a goddess-like figure and appearance.
Answer: She doesn't have any tattoos or piercing. Her body is clean. She loves games and experiments and love discovering new things in sex, so I guess you will find what you need in her.
---
rusty
16.03.2015
Will she take butt plug and fingers?
Answer: Yes, she will.
---
RUSTY69
10.03.2015
did she get implants ? and if i take her and domika will the lick each others pussies and can i have sex with them both at the same time
Admin: She has no implants, she's very young and 100% natural. She can offer what you're looking for - very intimate lesbi show with Dominika.
---
ADMIN
07.02.2015
New pics of Ksusha posted by admin (February 2015) :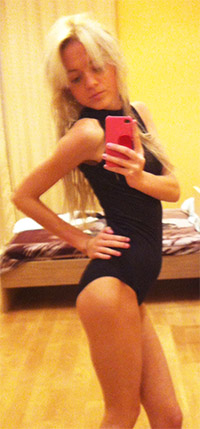 ---
Jim
18.01.2015
Ksusha is an absolute tigress in bed. Had a fantastic session with her. She is very friendly and totally hot. Get her fast!
---
rusty69
16.01.2015
Will KSUSHA do anal for extra
Answer: sorry, no.
---
Frbnkstc
21.12.2014
She is a beautiful, intelligent young woman. It was a joy to spend time with her.
---
Paolo
03.11.2014
Could you please tell what slave practices are availible with Ksyusha?Is it possible to use nipple clamps?Maybe there is any preferable scenario that can be published by Ksyusha?:)
Answer: Ksyusha available for light domination. You can use nipple clamps.
---
saman
29.08.2014
I would like to ask a question that if Kashua love rimming and does she cost extra for that. My one problem is condom. Without cndom I get hard but when I use then it is difficult to penetrate.Is there any way I can have sex with a girl specially with her wthout using it or any other girl. In that case we must be sure that we do not carry SD. Please reply me soon.I am going to visit Kiev.
Answer: Ksusha practices rimming for $50 extra per a time of meeting. She can do it for you or you can do it for her, whatever you like. All of our girls are having sex with condoms only. That's for your safety and their safety. You can only enjoy oral without condom with some girls of our agency.
---
Anonymous Milano
06.08.2014
She is absolutely amazing and adorable. Truly GFE , and very much likeable. She loves sex and enjoys giving pleasure. Again GIA is definitely the best agency in escort service in Ukraine or rather entire Europe. Good luck.
---
Rob
15.07.2014
This beautiful slim body is literally made for loving. I liked spending time with Ksusha because she looked petite and she was really kind of looking like a schoolgirl. What about sex... She was sometimes really shy and she wasn't open for experiments but she tried to please me and when I did the same for her, she cheered up and had that spark in her eyes, the one that made me feel even hornier about her. Sex with her is real GFE, so you won't be missing your money lots.
---
04.07.2014
I wrote an article for you and made pictures of my new schoolgirl suit! Men, you can start reading HERE !
---
Anonymous
15.05.2014
I love this agency because you consistently have really amazing girls! I've been a client for a fairly long time now and met maybe 15+ models during that time. I have also used other agencies, so if anyone reading this is not sure where to hire an escort from, the best agency in the world is this one, don't waste your time elsewhere, trust me, I've used a lot of agencies and also called in independent girls. All of them are average at best and most times disappointing or just complete fakes. Every single girl I have met from this agency is real and as described. I have only had 1 bad review to write about a girl from this agency but the other girls here are extremely professional and 100% genuine. So I'd just like to say that Ksusha is one of the best you have ever had at this agency! For me she is in the top 3 ever to work here! My best experiences was with Tina (who no longer works here it seems) and Yuliya (who also seems to have stopped). The reason why I say Ksusha is so amazing is very different to why I enjoy Tina and Yuliya. For Yuliya, she was a real angel, such amazing beauty, the type of girl you see only in dreams. For Tina it was that she was an extremely interesting person, amazing passionate sex but her perfect grasp of the English language allowed us to talk about very deep subjects, so she stimulates everything! With Ksusha, she is such a delicate flower, someone really precious. We had a very good connection together and she relaxed and we were able to really have the most amazing time together. She is so tiny, and I mean really really tiny! But this is a great thing. I was surprised at just how small she really is, a very cute girl. She doesn't speak much English, this wasn't bad for me but for others who do not speak Russian they will miss out because she is very friendly and good to talk too. She loves compliments (what woman doesn't eh?) but she takes them very well and genuinely too. The thing about Ksusha is that you can tell she is young and inexperienced. That doesn't mean she is not good, in fact, she is amazing! But there is a clear difference between how your other girls go about their work, very professional, with skills honed by lots of experience. And then we have Ksusha, who tried her best to please and wasn't afraid to experiment on her own desires, so the experience was so natural because of it. Ksusha is one of the best ever because of that innocence that is so genuine yet so very rare in such a job. Thanks Gia and Ksusha.
---
Liz
07.05.2014
I am a buniness woman from America how is in Kive from time to time. is Ksuksh avable to me. Will she sleep with anither woman. And also what is meant by domination? Can I be the domanting one? And do I need to send a despot to make sure she is free. Liz
Answer: Ksusha available to meet you. But her English is Basic (not good).
---
Artur
06.05.2014
Naked pics of Ksusha?
Answer: I have one picture of her brest.
---
Marat
06.05.2014
I don't see her face prety clear. Any other photos available ?
Answer: new pics of Ksusha will be added in 1 week.
---
Send comment