INCLUDING
EXTRA CHARGES
| | | | |
| --- | --- | --- | --- |
| 1 hour : | 200 $ | 5682 UAH | 172 € |
| 2 hours : | 300 $ | 8523 UAH | 257 € |
| 3 hours : | 350 $ | 9944 UAH | 300 € |
| 4 hours : | 400 $ | 11364 UAH | 343 € |
| 6 hours : | 500 $ | 14205 UAH | 429 € |
| 10 hours : | 750 $ | 21308 UAH | 643 € |
| 1 day : | 900 $ | 25569 UAH | 772 € |
| 2 days : | 1300 $ | 36933 UAH | 1115 € |
| 3 days : | 1800 $ | 51138 UAH | 1544 € |
| 4 days : | 2300 $ | 65343 UAH | 1973 € |
| 7 days : | 3500 $ | 99435 UAH | 3002 € |
Ped
27.03.2014
I spent 2 hours with Karina and had a wonderful time! She is really pretty, has a perfect firm body, is open minded, nice and friendly from the first moment, funny, easy going. She gives an exeptional GFE and I cant wait to see her again. Every single minute was real pleasure!
---
KARINA
20.03.2014
I have some new costumes for role-plays, would you like to see them on me? I can be a stripper or schoolgirl... Whoever you want me to see. But you should tell manager you want a role play before meeting me. No additional payments required!

---
Hassim
16.03.2014
I have met Karina after she posted her new toy here. Wanted to see her using this realistic stuff :) Well, this looks IMPRESSING, she's very good in turning men on with just showing what she can do with this toy. Sex was awesome too, very hot and Karina's attentive to every switch of mood when she's with her client. I would like to make our meetings regular.
---
KARINA
06.03.2014
I have a new toy, guys! Come and see me using it!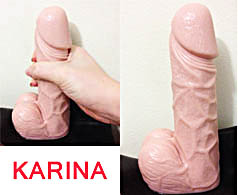 ---
Send comment