Jeremy
21.08.2022
Everything went on at the highest level! Worth the money.
---
Maxx
30.05.2022
Super baby!
---
MoonDay
20.10.2020
We were together with Inna at September with a wonderful holiday in Turkey. We had a great, very hot and satisfying time together. They were unforgettable days. Actually Inna who was unforgettable. She was super hot. She likes what she does. She likes to make me happy and she enjoys It. It was a very nice and pleasant meeting. Inna is a gorgeous and wonderful woman. When I see her photos before the meeting I realized that she is wonderful. But when we met I saw that she is more beautiful than those photos. Her English is perfect and we understood each other very well. We laughed a lot together and talked about everything. I was fascinated by her culture as well as her magnificent body. She has a very beautiful, super humorous and friendly character. She is loving, sensual, sensitive, very kind, smart and sexy lady. Inna met all my expectations. She is beyond perfect in bed. She was knowing very well what I want and what to do accordingly. We lived all the joys together in the bed and outside. She knows very well how to enjoy and give pleasure. She made an effort to make me happy during our vacation and she was very happy. She was like a princess accompanying me in every environment we were in. What makes it great is not only her mattress performance, but also her strong character and rich culture. I already missed her. I missed her conversation, her warm body, and all the joyful and delightful moments that lived together. Inna, unforgettable woman !!! See you again at the first possible opportunity.
---
nick
03.02.2020
does she travel 7 days in Greece?
Answer: 3 days maximum
---
Norman
03.08.2019
This is a fantastic girl in every way. Classy, very smart, funny, educated, sweet, and very adorable. She is SUPER HOT and a great lover. Inna has a great personality and has some of the best breasts I have ever seen. She is sexy and likes what she does, genuine professional. Sex was just amazing she makes me feel very special. Not rush, full of passion. Very clean. I will definitely see her again.
---
Ian
25.06.2019
What an amazing lady, super sweet, dress very elegant, friendly, loving and caring, the minute she walked in she made my heart raise. Inna is a true gemstone and on top of everything on time as punctuality is super important to me and finally, I want to mention she is not a clock watcher. I will sleep like a baby after this amazing experience. Without a doubt, I will love to see gorgeous Inna again.
---
John
03.03.2018
Its possible have role play with Inna? Like a "interview" with her during the act. I would like to ask her when she was with man last time, where men like to come on her, how many men she had in one day. What she answer doesn't need to be true. This make me very excited. She can be ready for this?
Answer: it is possible, BUT don't forget to notify the manager about it in time so the girl can get ready :)
---
10.02.2018
Being with Inna is always some kind of an adventure... She's unforgettable in every possible way. You never know what you're going to end up doing when you're coming to see her. Her fantasy is unstoppable, she never ceizes to find a new way to surprise you with something new, and the more of a regular client you are, the more you get! It's not like she tries only for her regulars, no. She's just getting to know you and when she gets to know you she will find the key to make you scream for more every time you meet her. So yeah, my only advice is for you to meet her as soon as possible!
---
Craig
14.11.2017
Okay I can't keep it in, I just want to share it with someone - I had sex with Inna, and even more - I fucking filmed it and it was one of the best experiences in my life, and I got the video now for me to remember how it went. So where to begin now that I've said it... I wanted to shoot a video with a call girl for god only knows how long and I've been looking for a girl who would agree to that. Aaaand when I found out that Inna is okay with filming - my happiness had no limit's. Inna is so curvy, her body is really something, a work of wonder and I was so fucking pumped to film her beauty. She was excited too and even though she wore a tight black blindfold during the process, we made pauses so she could see what she's doing. Even though my video is pretty low quality, but we were so fucking pumped and high with endorphines that you can feel it while watching. Inna's services are absolutely brilliant, and I am so happy that this lady is okay with filming how she sucks and fucks. Totally worth the money, don't think twice!
---
Kaushik
27.09.2017
Liked the new pics of Inna - she looks hot. Would like to invite her for a vacation but is she not available for a period of more than 3 days ??
Answer: if you have some incentive offer, you can talk about it with manager and maybe we'll get her to go for a bigger longevity. Please email our manager!
---
Charles
28.08.2017
Please, who is the girl kissing Inna in picture?
Answer: this girl is not working with agency anymore.
---
Amateurprod
27.08.2017
Hello inna, can come in Switzerland ( biometric passport or Schengen visa). What is the condition ? Regards
Answer: Yes, she can. Conditions here
---
Jack
15.07.2017
I spent two fantastic days with Inna. She is wonderful, always positive and charming. Her good level in English allows to converse easily on all the subjects because she is open-minded. In short, a beautiful person to discover.
---
Kaushik
01.04.2017
Inna looks slimmer and prettier in her new pics - has she lost weight in recent months. Also what is the meaning of the tag professional escort.
Answer: our girls always try to look prettier for our clients and do their best to reach best physical shape possible! Professional escort means a lady with experience to do everything on the highest possible level.
---
Kaushik
11.02.2017
I am fond of travelling and looking for a travel cum gfe partner - some one with whom I can travel to a tourist destination. Both of us would be doing sightseeing during the day and have fun at night. Can Inna play this role of travel cum gfe partner ?? How good is her English - can she speak entire sentences ??
Answer: Yes, she can be a great partner for that and she is up to that. It will bring her pleasure. She can speak entire sentences, her English lever is pretty good.
---
Kaushik
28.12.2016
If I book her for a period of 2 to 4 days - do I still have to pay additional amount for enjoying CIM. How much extra do I have to pay for how many CIMs.
Answer: you have to pay ONE time a day to have access for this service.
---
Kaushik
02.12.2016
What type of Massage does Inna provide ? Can she provide B2B oil Massage followed by shower together ?
Answer: Inna provides erotic massage with oil. Shower together - no problem!
---
10.09.2016
Does Inna have natural breasts?
Answer: No, implants.
---
Kaushik
25.08.2016
I am an educated funloving guy from Mumbai in India. I would like to see Inna's clear pictures. Is she available for travel in India - if yes, I would like to invite her to Mumbai.
Answer: To see clear pictures, you need the password - e-mail us or call us (use the contacts page), and we'll give you one.
---
INNA
13.08.2014
I'm one of the girls who love sex in each possible way! Let's try it together and I can fulfill all your fantasies... You'll be craving for more ;)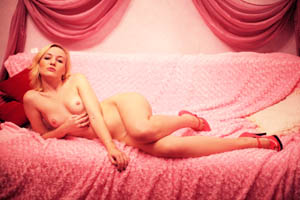 ---
Thai@Kiev
22.07.2014
This was my first time using this agency. Not knowing what to expect but hoping that the lady would be the one from the pictures. As I saw Inna in the lobby, I thought I saw an angel. She was exactly what I envisioned from the photos. Great way to start a connection. She is the "girl next door" type....a young and beautiful and innocent looking girl. She's not the tigress that will grab and devour you. She's gentle and sensitive and smooth. It's almost like a dance where the man leads and she follows. She will allow you to guide her. Whatever moves you make, she makes her moves that makes you both feel amazing. I can still feel her smooth lips on mine and gorgeous blue eyes that just melts your heart. She has the perfect curves in all the right places. We had a great time connecting. It's important in being with Inna that you are passionate with her. It has always been my dream to experience being with a gorgeous Ukrainian lady. It fulfilled my dream. Thank you for your tenderness that you shared with me. I will never forget our experience together. I don't know if this will ever happen again. But it will be a memory that I will always cherish.
---
INNA
14.07.2014
Dear gentlemen, I have my schengen visa for now and it means that I am able to travel with you around the world.
---
S@Rio
10.05.2014
After a very short meeting in Kiev, that left me wanting to see Inna again, we met for four days in Rio a week ago. I knew I liked her, but I also understood that a long term booking can be a disaster if you don't find some common interests or are not able to communicate. Besides being very beautiful, Inna is easy-going, fun, we easily agreed on what to do, and the conversation went deeper than I originally expected, although from time to time we needed help from Google Translate. But, as in Kiev, I never felt language was a barrier, nor I got tired of talking to her. Also, waking up in the morning having her by my side was magical, and her attitude made the moment even better. All in all, it went very, very well. At all times, Inna acted as if I was her only interest at the moment. She is a fantastic person, someone I would be proud to have as a friend. I wish her all the best, and I will try to see her again if I can.
---
Misha
14.04.2014
super girl ....
---
S@Kiev
08.04.2014
I spent one hour with Inna today in my hotel room in Kiev. Photos are accurate. She has a fantastic body, is very beautiful, and has lovely eyes. She was very accommodating, and made sure I was getting what I wanted. Maybe it's because she so closely matches my ideal of a woman's looks, but I was thrilled to be with her. Her English is somewhat limited, but I did not find that it impaired communicating in any way, it just took a little longer than usual. Her page clearly state that her English level is basic, so that it wasn't a surprise for me. She is intelligent, articulate, and well educated. She's taking english classes so her language abilities will improve. I spent a great time with her, and the only reason I'm not booking her again tomorrow is because I'm leaving Kiev. I wish all the best for Inna, and thank her for the short time we spent together. I wom't forget her easily.
---
19.03.2014
Do you have any nude pictures of Inna
Answer: new nude pics of Inna will be added in 10 days.
---
Paul
15.03.2014
great new girl :-). In which countries she can make visit's?
Answer: Only Ukraine.
---
Send comment