INCLUDING
EXTRA CHARGES
| | |
| --- | --- |
| 1 hr: | 200$ 150$ |
| 2 hrs: | 250$ 200$ |
| 3 hrs: | 300$ 250$ |
| 4 hrs: | 350$ 300$ |
| 6 hrs: | 450$ 400$ |
| 10 hrs: | 650$ 600$ |
| 1 day: | 800$ 750$ |
| 2 days: | 1300$ 1200$ |
| 3 days: | 1800$ 1600$ |
| 4 days: | 2300$ 2000$ |
| 7 days: | 3500$ 2900$ |
*Offer till 25.03.2015
+pay taxi
tony
19.12.2014
Does she still long hair? Like photos
Answer: Yes, she does.
---
happy
18.12.2014
she is beautiful and great women happy xmas to uo
---
Brian
03.12.2014
I was flattered by Dasha's tendency to look after her clients. I met her in agency's apartment, and I was a bit cold due to the weather, and she made me a warm tea... It was really nice of her. Her English level is not enough to communicate fluently, but we pretty much understood each other. For the most part of night no words were needed at all. She is petite, with nice curves and great voice. She loves doing sex to the music and it was kinda funny. I sincerely enjoyed every moment I've spent with Dasha and I would like to meet her again, because she was the most open, nice and easy going escort I've met last year. Great pre-christmas present!
---
Tim
15.11.2014
Good choice for those who don't look for young girls only. Dasha is not the youngest one from agency, well, she is one of the most mature ladies. But still there's some spark in her, a spark that makes her different from other girls. She has feminine body with curves, smart eyes and really interesting appearance. She gave me both good time together and also good sex. She is inventive, she loves thinking of new ways of fucking and she performs blowjob of really good quality. Also service was good and she came to my appartment in 2 hours after my call. And that's perfect.
---
Anthony
09.08.2014
Dasha is good in each type of sex you would like to try with her. Plastic, splendid in both giving and receiving pleasure, very natural as a girlfriend, and playful. She's like a kitten, she loves playing in bed and it adds up a little spice in your meeting. I loved that she doesn't try to spend your time and get your money, she's really into entertaining her client and giving him all of the pleasure she's able to. Liked her a lot.
---
DASHA
13.06.2014
I'm showing my breasts just for you, gentlemen!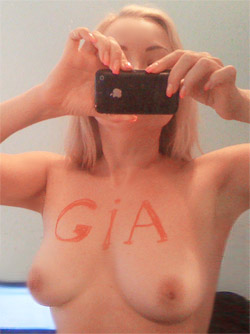 ---
Send comment