Tourist
14.04.2016
Hi! I am interested in a one day date with Ilona and Dasha. Do you thik they are a good match? Is Regency Hyatt a suitable hotel? I am hoping for a nice meal at the restaurant that ends up in a wild threesome at the room. Kind of GFE style. Toys, sexy lingerie and costumes are welcome. Comments on that?
Answer: Yes, Ilona and Dasha are a good match. They are both professionals and they easily communicate with each other. Toys and sexy lingerie are possible too, but you have to tell manager you'd like girls to have them. You can choose any hotel, it's up to you, but Regency Hyatt is a pretty decent one, we have no doubts you'll like it. Our girls can give you the top notch GFE, you've picked the right ones. We are waiting for your call!
---
Simon
01.03.2016
Hi, Ilona previous photos were classy but these are great, red especially. I don't recall her being a D cup before is that new ? Certainly the previous photos never caught how fine her waist is and what dynamite legs she has. I hope you get a lot of good customers for these girls some of the comments I read makes me think they have to suffer some very unsexy men 1 ;-) Not sure when I'll be in Kiev next but gia always has me wanting it to be tomorrow. Regards
Answer: Ilona has a D cup now, because she had a breast-enlarging surgery. She also works out a lot to have those dynamite legs and waist :) She is one of our most classy escorts and she really improves herself a lot, in each possible sense. That's why she looks bomb. But she also offers bomb services :) So don't hesitate to come to Kiev as soon as you want to lay hands on this beauty!
---
VB
13.12.2015
What a woman!! i happened to be in Kiev for work and really enjoyed my evening with her. Ilona looks amazing in person: hot and attractive body and really great personality. You can feel she enjoys sex meetings. What a great evening we had!
---
SomeGuy
24.10.2015
I enjoyed meeting Ilona very much. She is very mellow and easy to talk to, and is classy and interesting. Great body and excellent skills. She's very hot and sexy. Will repeat.
---
31.08.2015
Does Ilona take a butt plug in her butt?
Answer: No.
---
Tom
03.08.2015
Hi, what toys does Iliona have please ?
Admin: You can see them on this picture.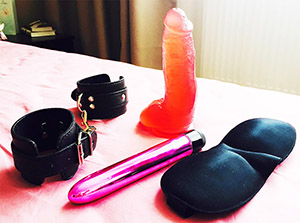 ---
26.06.2015
Does she give and receives rimming both??
Answer: yes.
---
DS
10.06.2015
Does she have children?
Answer: No.
---
Mark
18.04.2015
She is like the classy lady next door, or at least the one you would like to have as neighbor, find in the elevator and make love right there! She can be your best friend wife, she is so classy and normal. She does not come cheap, but there is a reason: she is not CHEAP, she is a professional and pleasing, maybe that is how geishas are in Japan. She is not just an amateur desperate for money, like 'ok, give me your mone and fuck me', she did everything I wanted and then some more in a clean, controlled, very pleasant atmoshpere. She is worth every penny and compared to other girls here, she is a bargain. You won't regret meeting this delightfull lady IMHO
---
John
30.12.2014
Is she an obedient slave? Does she have children?
Answer: she doesn't have children and she is an obedient slave.
---
Mike
22.11.2014
Hello, I tried Ilona and I'm satisfied with the level of her services, but I would like to see her with another lady (she looks like a hot lesbian), so is there any possibility she's going to provide lesbi show to those who would pay to see it? And what girls do you recommend to take her with (if the answer is yes)?
Answer: From now on Ilona really PROVIDES lesbi show. You can meet her with any girl you like (who performs lesbi show too). You will stay satisfied with what you see. Book Ilona for lesbi shows!
---
HappyMan
18.09.2014
Meeting Ilona was a hard decision for me, but still I wanted to do this. to be quite honest, I don't meet ladies over 23-24. Meeting Ilona was an experiment and I decided to do it due to her sexy looks on those pictures where she's dressed in jeans or sexy lingerie. She looked really hot to me, so I wanted to see and find out is she really my cup of tea or not. Well I can say, that Ilona is a pro, but her real looks are closer to her phone pictures and those where she wears pants and dress. She does her work in the most professional way, and you can't have even a wink of doubt on her being a good escort, but I guess I missed something. I like when girls are cheerful, positive, even a little bit crazy. Ilona was much of a lady, she behaves well and she stays lady-like even when she's on her knees performing blowjob. That was a part that was not mine for sure. Ilona will be the best, the perfect choice for those who look for ladies who are really loveable and who do everything with class, but as for me, I still prefer girls that are younger. Still I really enjoyed an evening with Ilona and I recommend this classy lady to everyone who enjoys beauty and chic.
---
Send comment